[vc_row bg_color=""][vc_column width="1/1″][ish_separator color="color7″][vc_column_text]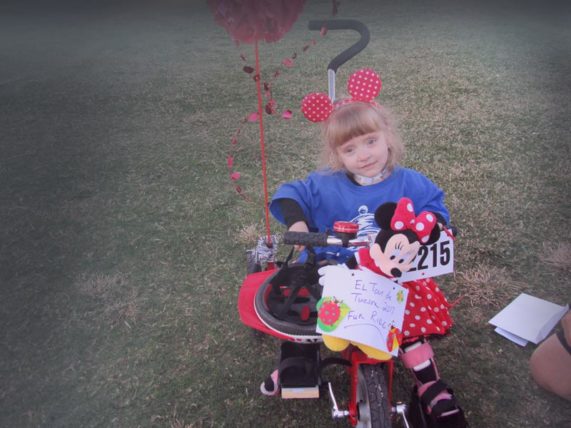 Arianna is 3 years old and lives with Infantile Fibromatosis.
Specialists at Children's Clinics work closely with Arianna and her family, as there are many unknowns with her condition. She sees her ophthalmologist, physical therapist, occupational therapist, and audiologist all at Children's Clinics. Arianna's mother, Connie, says "To have a child with so many specialists, it has been extremely convenient to have them all in one place."
The impact of the Adaptive Recreation Program on our family
A message from Connie:
"Arianna loves riding her tricycle she received from the Adaptive Recreation Program. It has allowed her to be mobile in a way equal to her peers.  Both her father and I have always loved bike riding and it thrills me to see her be able to ride, too. Exercise is such an integral part of a child's life and the adaptive tricycle has made that possible for her. Prior to receiving her tricycle she was always pushed in a stroller around the neighborhood but now she can ride her bike. Even if it's a short distance to the corner and back, the important thing is she's doing it. This is such a huge, positive impact on her physical and mental wellbeing. We are certainly grateful.
I have previously ridden in the Tour de Tucson and 2016 was Arianna's first time to join in the fun ride. She's benefited so much from Children's Clinics that it's an honor for both of us to ride for the Children's Clinics.
My hope is that many more children will benefit from the Adaptive Recreation Program and be empowered with another form of physical activity and the benefits thereof."[/vc_column_text][/vc_column][/vc_row]