Art is no stranger to volunteering, he has donated hundreds of hours of volunteer service to different organizations, ranging from juvenile detention centers to assisted living centers. Upon hearing about the Children's Clinics from a friend, he began volunteering with the Children's Clinics in summer 2019.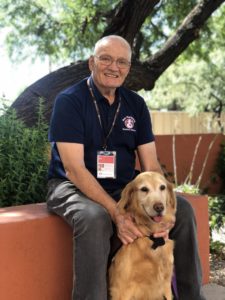 Art does not work alone, he and his loving golden retriever, Sienna, donate a morning each week to spend time with patients, families, and the Children's Clinics staff. At our clinic events, you will see them dressed to impress for our patients and families.
Sienna was rescued by Art from the Southern Arizona Golden Retriever Rescue in 2018. Her calm and affectionate demeanor spreads joy to anyone who interacts with her.
Sienna's favorite past times include ear pets and eating cheeseburgers.
Art's favorite part about volunteering at the Children's Clinics is the home-like feel and interacting with those who need a little joy in their day. Art and Sienna have an innate ability to make anyone smile. We are incredibly grateful for their service!