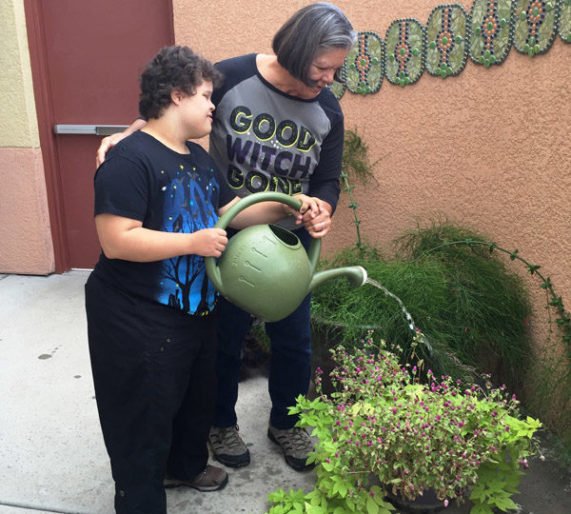 For most of her life, Children's Clinics has been 20-year-old Arielle's one-stop medical home. Starting two years ago, our facility also has offered Arielle and her mom Deb a way to give back.
At least three times a week, the mother-daughter duo volunteers at the Clinics to care for the beautiful plants on the outdoor patios. "We're here as much as the plants need us," Deb says. These patios provide young patients and their families with yet another facet of the warm and inviting environment Children's Clinics fosters.
Arielle, who has Down Syndrome, Autism and is legally blind, enjoys volunteer activities in the safety and positive environment of the Clinics, where she feels at home. Laying out coloring sheets and crayons for children, and keeping the snack carts stocked for other patients and families also are part of her volunteer duties.
In addition to plant care with her daughter, Deb works with Children's Clinics Volunteer Coordinator Anna Pereira, who oversees a small cadre of volunteers who respond to a variety of campus needs. Because most of Deb's time is spent with Arielle, volunteering has given her the opportunity to get to know families new to the clinic, all the while knowing her daughter is in safe hands.
Because of her lifelong care of Arielle, who still receives vision and orthopedic checkups at Children's Clinics, Deb can provide insights and wisdom to families just starting out at Children's Clinics. "I like to share with new families that they're not alone, and to tell them what Arielle's care at Children's Clinics has meant to us as a family," Deb says. "I like being able to give back."