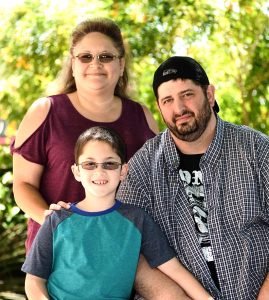 At age six it became apparent that our son, DJ, was very quickly losing his ability to hear. As we wrestled with our fears for him, our pediatrician connected us to Children's Clinics. Our nerves were calmed a bit when we were greeted at the Clinic and saw the children in the lobby watching movies, saw the games and crafts for the kids, a beautiful fish tank, and more. It helped put our minds slightly at ease. I remember thinking "Maybe this would  work out… Maybe this is not just a professional healthcare facility, but one that really cares about kids." Mary, our audiologist, took the time to listen as we poured out our hearts and asked question after question. She was there not only for DJ but for my wife, Kim, and me, always going the extra mile.
DJ's diagnosis of progressive bilateral hearing loss was followed by several months of visits to Children's Clinics, seeing several interdisciplinary teams. Each time, we were treated with kindness, love, and respect, and the doctors and staff took the time to answer all of our questions, and also to make sure DJ was well cared for.
DJ was later diagnosed with bilateral enlargement of the vestibular aqueducts and a bicuspid aortic valve. But we had the answers we needed and knew that treatment was available. DJ adapted almost immediately to wearing hearing aids in both ears, and we saw improvement in his social and learning skills.
DJ was now able to enjoy life more, from shooting hoops, seeing the Diamondbacks play (he's a Diamondbacks SUPERFAN!) or enjoying a movie with his mom and dad. His progressive hearing loss continued, however, and his hearing aids finally reached their limits.
The Clinic then introduced us to cochlear implants, and DJ became a candidate. New-found hope brought tears to my eyes as we learned that implants would mean he would always have some level of hearing available. The surgeries were completed flawlessly by Dr. Parry, another medical professional we met at Children's Clinics.
The implants work far beyond our hopes and dreams. With his implants he now hears better than I believe he ever did with hearing aids. It is absolutely amazing. From music, to speech, to going to a ballgame, DJ hears everything, and his learning and social growth have improved.
What a roller coaster of emotions this has been for us, from deep fear and sadness initially to a glowing heart, and knowing that our son is, and continues to be, taken care of. DJ has remained extremely strong this entire time. Now three years later, DJ is almost nine. I couldn't be more proud of my son's strength, as he continues to be a fun-loving, kind-hearted soul. He will do amazing things in his life, due in large measure to what Children's Clinics has done for him.
From the bottom of my heart, thank you… all of you. You are making a difference.  Thank you.
– David J. Jacobson (DJ's father)