[vc_row bg_color=""][vc_column][vc_column_text]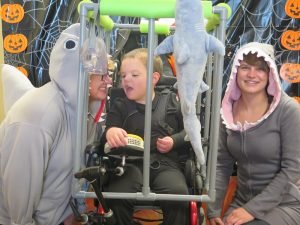 When you meet Jaclyn Larson you are struck by both her youth and her maturity. The 24-year-old's son, Aidan, is now seven years old, and the traumatic brain injury he suffered at age two has altered the course of their lives.
When Jaclyn's not in class at Pima Community College and Aidan's home from the special education program at Lynn-Urquides Elementary School, they're together. At other times, their large and extended family is a great help.
Jaclyn and Aidan live with her grandmother, and Jaclyn's parents and siblings live next door. Her aunt, uncle and cousins live in a home just adjacent to her grandmother's house. Aidan's family on his dad's side are part of their lives as well. Jaclyn can tell you that it takes a village to raise a child with special healthcare needs, and Children's Clinics is a part of their village.
Jaclyn, the parent representative on the Children's Clinics Board of Directors, has learned a lot in the five years since a car accident changed Aidan's life and the lives of those who love him. She knows the ins and outs of wheelchairs and walking devices, feeding tubes and how to puree healthy food to attain just the right daily caloric count. She records her voice on Aidan's "talker" so he can push a button and use her voice to "ask" for what he needs.
Ask Jaclyn about Aidan's progress and she'll tell you it's important not to have hard and fast expectations, that their goals change as Aidan progresses both in expected and sometimes unexpected ways. "I want him to be as independent as possible," Jaclyn says. "But I'm not expecting he'll be able to live on his own when he's 18."
Children's Clinics physicians, rehabilitation specialists, and other staff have supported Jaclyn and Aidan since they were discharged from the trauma unit at what was University Medical Center at the time. "Everyone at Children's Clinics knows Aidan and me. They don't even ask for our names when we arrive. I used to be a very shy person, but seeing the same faces and interacting with other parents and children has helped so much."
Why a Medical Home?
Aidan's needs and the needs of his extended family illustrate why a "medical home" is so critical. The whole family benefits because they can access the very best care in a warm and supportive environment, all under one roof.
We schedule our patients for an array of appointments in one visit to the clinic, removing the burden of traveling to numerous medical appointments across the city. For example, during a four-hour clinic visit, patients with Spina Bifida see an orthopedic surgeon, developmental pediatrician, urologist, psychologist, physical therapist, education specialist, medical social worker, nurse coordinator, nutritionist, and child life specialist. Medical records are easily accessed by all and the team meets after a clinic visit to discuss each patient's progress and needs.
As the family's medical home, we also offer primary care for all the children in a family.
[/vc_column_text][/vc_column][/vc_row]