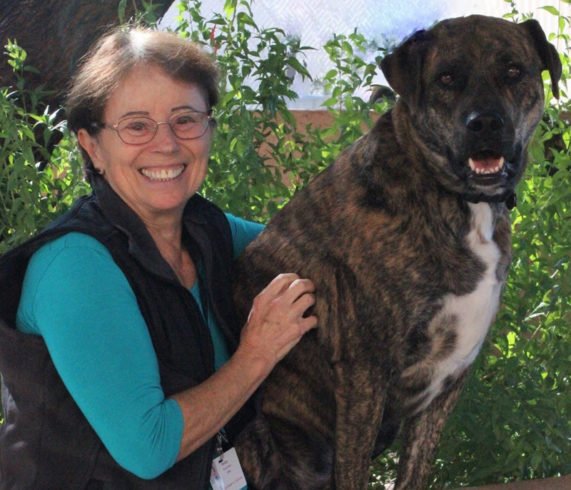 Six years ago, a Volunteer Center* ad caught Kathy Eldred's eye. The Children's Clinics was close to her home and needed a volunteer to care for patio plants. She and the Clinics' volunteer coordinator "clicked" when Kathy visited, but they thought the patios could be more cheerful.
Thanks in part to Kathy's creativity, the patio plants are alive and well and the ambiance there is bright and inviting. The mosaic tile creations that now adorn the patio walls and benches include butterflies, monkeys, a caterpillar, a giraffe, and an inchworm.
Kathy is both an artist and a software engineer; she retired in Tucson in 2002 from IBM after being with the company for 32 years, with assignments in San Jose, California, and Burlington, Vermont. In addition to her volunteer work, Kathy is an active adjunct faculty member at Pima Community College, where she teaches an online introduction to logic course.
She stayed in Tucson because it's warm, and because "Tucson is as good a place as any. You make your life where you are," she says.
Kathy now contributes her left-brain skills in an administrative capacity at Children's Clinics. She and her big friendly dog, Brody, are in the office two mornings a week. She focuses on Patient Comment Cards and maintains a database that provides summary data and reports to the management team. The information demonstrates client/family satisfaction. Children's Clinics collects more than 2,000 patient comment cards annually.
"I enjoy being part of the upbeat and positive environment that Children's Clinics creates for children with complicated diagnoses and for the people who support these children," says Kathy.
*The Volunteer Center is now part of United Way of Tucson and Southern Arizona.