2023 El Tour de Tucson Team
Join the Children's Clinics Team
When you select Children's Clinics as your charity of choice for the El Tour de Tucson Main Event, Fun Ride, or 5K Run/Walk, you are helping the thousands of children in Southern Arizona that visit our Clinic for their complex medical care needs. We believe not only in medical science but the science of compassion – in innovative programs proven to help children with complex needs.
Why ride/run/walk and raise funds for us? Because when you do, your efforts will fund our Childhood Experiences & Adaptive Recreation programs, which allow children with chronic pediatric illnesses to experience the joy of expressing themselves through the arts and helps them develop their bodies through adaptive sports. 
Childhood Experiences & Adaptive Recreation programs are not covered under insurance, and many of the activities and equipment are 'luxuries' our families struggle to afford, which is why we rely on our generous donors to give our kids the opportunity to just be kids. 
Funds immediately impact our children. 100% of the funding donated to these programs goes to the program's activities and equipment. Administrative expenses are covered by other funding sources, so every dollar raised by this event goes toward our kids. 
Join Us!
2023 El Tour de Tucson
EVENT DATE:  Saturday, November 18, 2023 | Tucson, AZ
REGISTRATION DEADLINE: Friday, October 13, 2023
Family Fun Ride Sponsored by Simply Bits
Our now flourishing Adaptive Recreation program started with adaptive tricycles and bicycles and has now grown into our hallmark event. The Family Fun Ride is the one event where everyone can feel like an athlete for just a day.
There are two Fun Rides that families can participate in, the 1-mile course or the 3-mile course. FUN RIDE MEDALS are awarded to ALL finishers! Children's Clinics covers the cost of a clinic family's entrance fee through corporate sponsorship and/or donations.
CLINIC FAMILIES: If your family would like to participate in the Family Fun Ride, and you are sure that your child and family can attend that day, please register below.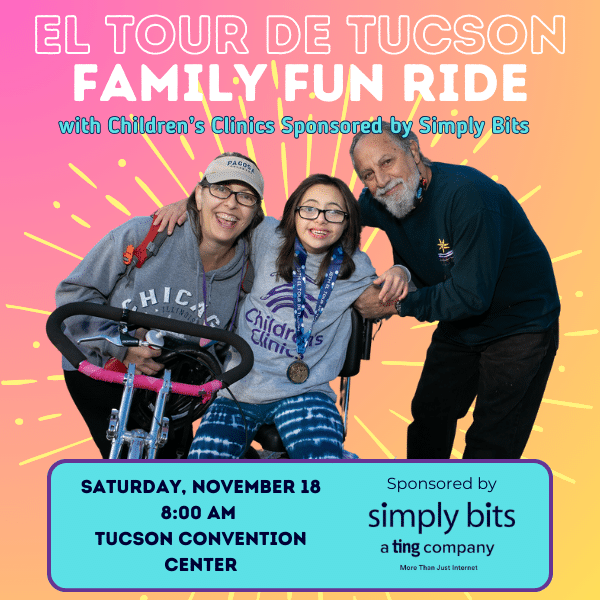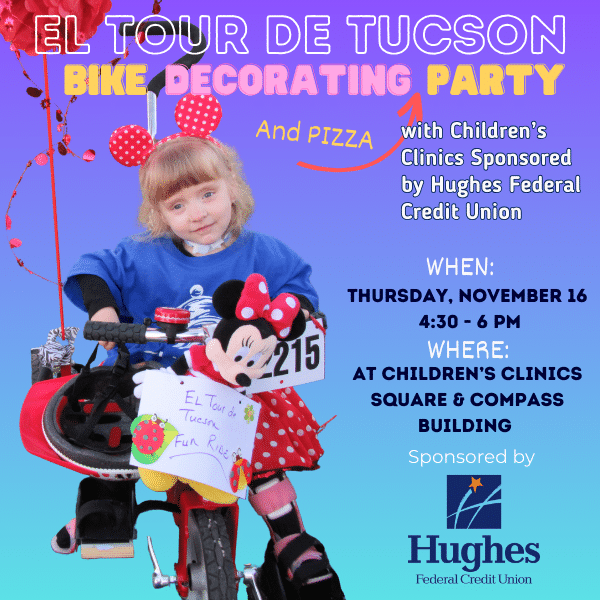 Bike Decorating & Pizza Party Sponsored by Hughes Federal Credit Union
Come and decorate your bike for the big Family Fun Ride.
El Tour will award prizes for children 12 and under in the BEST DECORATED BIKE CONTEST! And Children's Clinics and Hughes Federal Credit Union want you to WIN! Join the party and outfit your bike for FUN. 
Decorate your bike. Wear a costume. Let your imagination run WILD! Selections will be made at the Finish Line of the Fun Ride. The winner will bring home an El Conquistador Trophy, El Tour's highest award!
When: Thursday, Nov. 16 from 4:30-6:00 PM
Where: Children's Clinics, Square & Compass Building
Join Children's Clinics and ride in the 40th Annual El Tour de Tucson as our Race Representative when you make us your beneficiary charity. 
Not only will you enjoy the scenic ride through Tucson with other cyclists from around the world, but you will help raise funds for our children with complex medical conditions, allowing them to participate in programs that make them feel, well more like a kid. 
We hope that you will raise at least $250 for our clinic. All riders that participate will receive a ride jersey from Children's Clinics. 
Click here for instructions to register on the El Tour de Tucson website.
JOIN US as El Tour de Tucson brings back the 5K Run/Walk for their 40th anniversary.
The 5K will start at the El Tour start line at 7:30 AM and finish blocks away at El Parque de San Cosme (Just two blocks from the start line on Cushing Street on Simpson Street). All participants in this chip-timed 5K will receive a finisher's medallion as they cross the finish line.
Whether you run or walk, you'll be supporting the children of our clinic and the programs that help them experience more of a childhood. 
Click here for instructions on registering for the 5K Run/Walk
Ways to Support Children's Clinics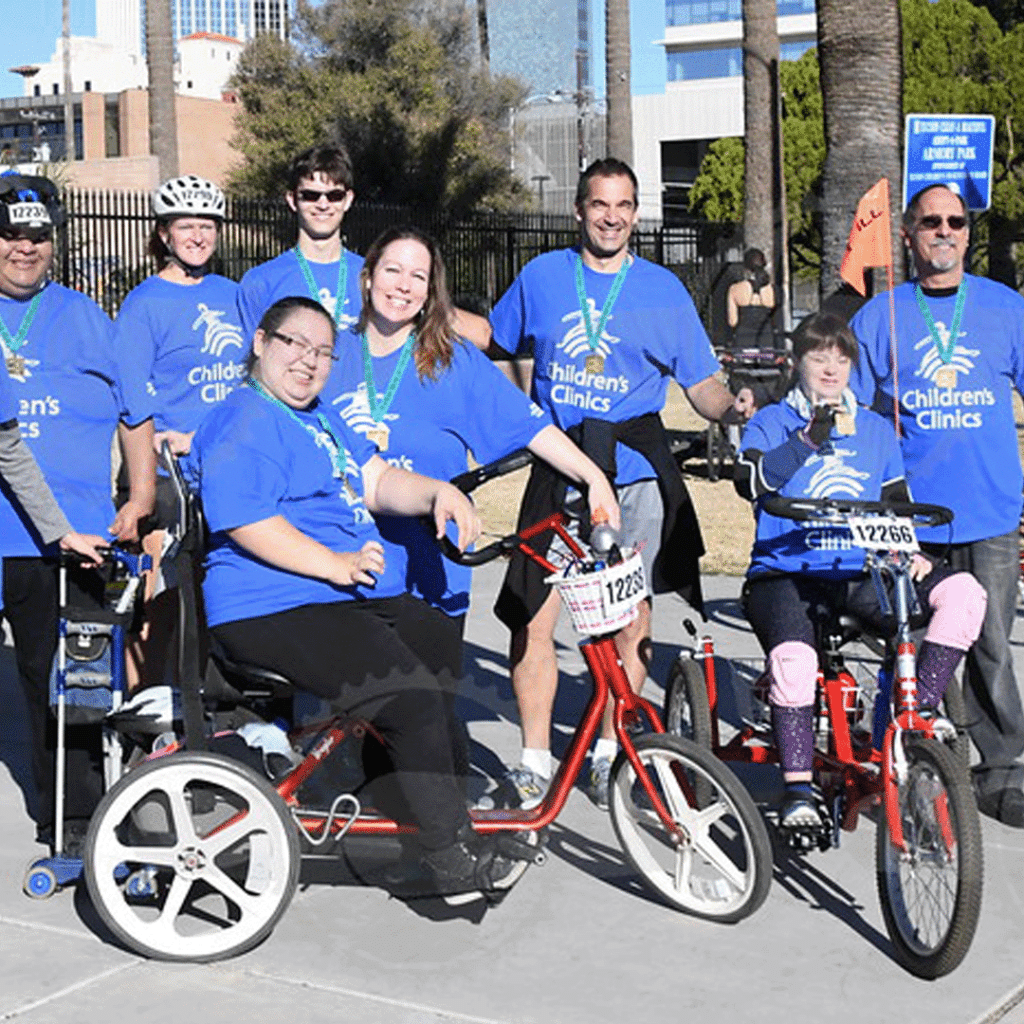 Event Sponsorship: Are you a business that would like to make a greater impact in your community and would like to be featured at an event? Contact us to learn how to get involved.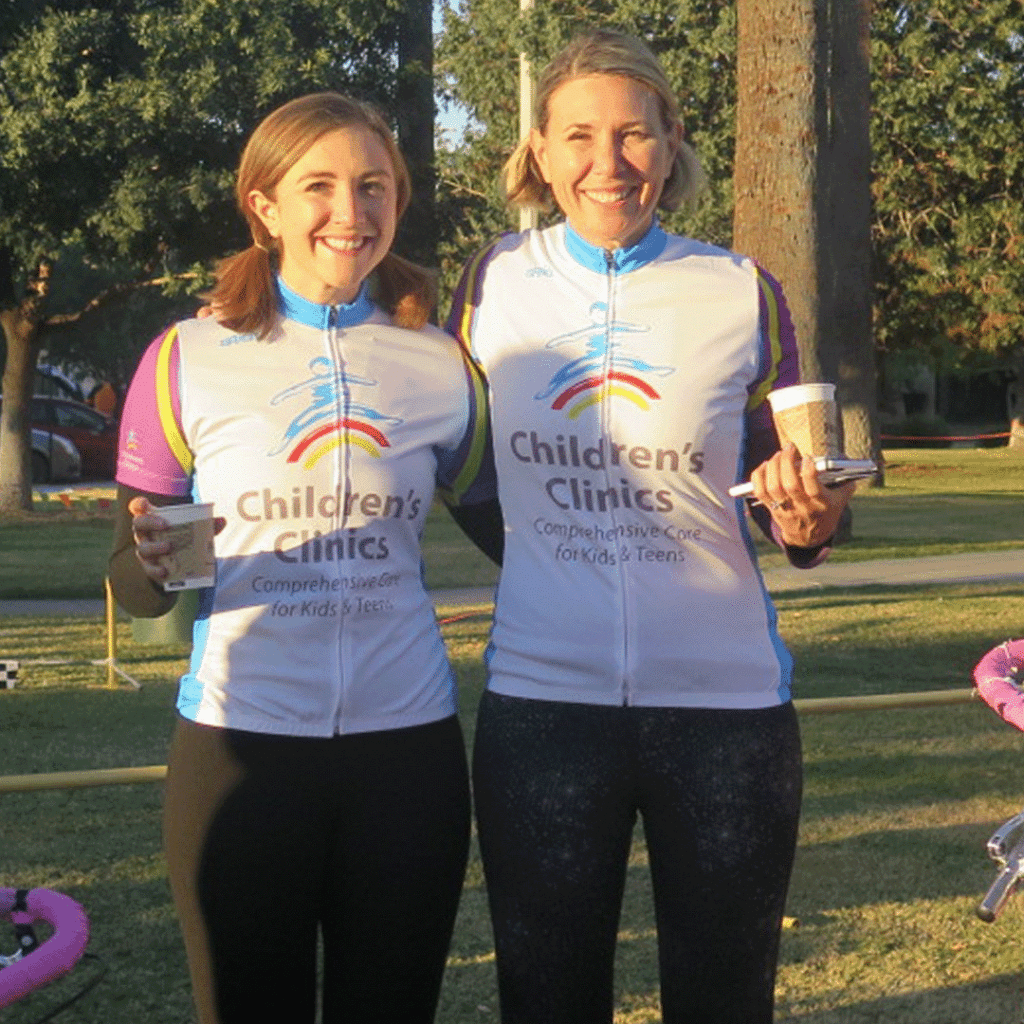 Individual or Team: Make a donation to an individual participant or team.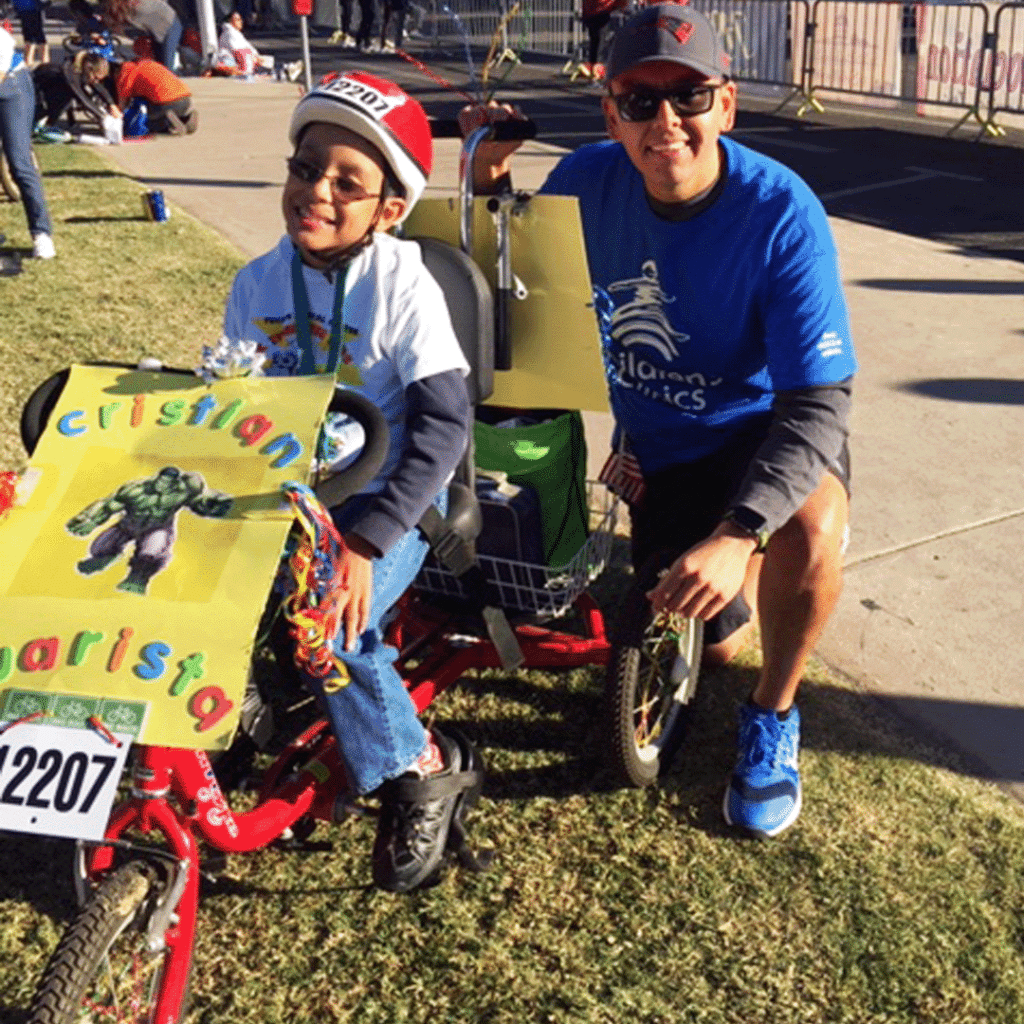 Support a Family FUN Ride: Help a family ride together! With assistance from our local community, we pay the entrance fee so our families don't have to.