Children's Clinics is a comprehensive medical home that offers southern Arizona's families a unique environment to meet the health care needs of their children.  We have more than 25 medical and dental specialty clinics, primary care, behavioral health, and therapy services under one roof.
Located in the Square & Compass Building on the Tucson Medical Center (TMC) campus, Children's Clinics is a nonprofit organization providing family-centered, comprehensive outpatient medical and therapy services in a comfortable and engaging atmosphere.
Children's Clinics is accessible to the entire community, serving children from birth to young adulthood. In addition to general pediatrics, many of our children have complex medical conditions such as cerebral palsy, spina bifida, muscular dystrophy, cardiac conditions, cleft lip and palate, sickle cell, and metabolic disorders.
All children, from birth to young adulthood, are welcome at Children's Clinics under the highly trained and experienced care of our primary care physicians.
Pediatrics
Internal Medicine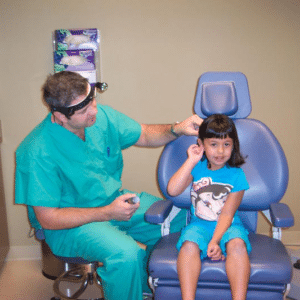 Our specialty care providers are supported by a comprehensive team of professionals, including child life specialists, education specialists, medical social workers, RN care coordinators, and more.
Anesthesiology
Cardiology
Dental and Orthodontia
Developmental Pediatrics
Endocrinology
Ear, Nose, and Throat
Gastroenterology
Genetics
Hematology
Nephrology
Neurology
Neurosurgery
Ophthalmology
Optometry
Orthopedics
Pediatric Surgery
Physical Medicine
Plastic Surgery
Pulmonology
Urology
Wound Care
Children's Clinics provides a range of outpatient services for children, adolescents, young adults and their families.
BCBA
LMSW/LCSW
Psychology
Neuropsychology
Child/Adolescent Psychiatry
Family Support Services
The Children's Clinics Rehabilitative Department provides physical therapy, occupational therapy, speech therapy, audiology, and nutrition services in an integrated care setting.
Children's Clinics occupational therapists help child stay engaged in activities that give them pleasure or a sense of purpose.  These activities may include play, dressing, bathing, hand writing, visual perception, feeding, and fine motor skills. Occupational therapists work with children to develop the skills to be as independent as possible with activities of daily living.
Occupational Therapy Services:
Evaluation and treatment of fine motor, sensory processing, visual perception, and self-care skills
Fabrication of custom hand and arm splints
Evaluation for adaptive seating and wheelchairs
Evaluation and treatment for feeding difficulties
Physical therapists at Children's Clinics work to improve the strength, flexibility, coordination, endurance, and balance in order to optimize movement and improve function in patients with neuromuscular, orthopedic, and developmental conditions.  Physical therapists help patients return to their prior level of functioning after an injury or surgery, or to develop age-appropriate gross motor skills, such as rolling, crawling, standing, walking, and running.
Physical Therapy Services:
Evaluation and treatment of gross motor development
Assessment for adaptive equipment
Assessment for lower extremity orthotics (bracing)
Evaluation for adaptive seating and wheelchair
Therapeutic intervention for the management of spasticity, including serial casting and post-Botox therapy
Children's Clinics' speech-language pathologists evaluate the ability to understand and use language for learning and socialization. They provide therapy to improve oral speech and language, or to develop alternative communication methods if speech is not possible. Speech-Language Therapists also assess and treat problems related to voice, eating, and swallowing.
Speech Therapy Services:
Evaluation and treatment of expressive and receptive language
Evaluation and treatment of feeding difficulties
Augmentative/Alternative Communication (AAC)
Evaluation and treatment of pragmatic language and social skills
Care for children pre and post cochlear implant (CI) surgery
Multidisciplinary Clinics
Lab/Phlebotomy
Educational Support
Child Life Specialists
Interpretation/Translation
Patient Advocacy
Brace Check Clinic
Equipment Clinic
Hearing Aide Evaluation
Orthotics
Prosthetics
Pet Therapy
Spasticity Clinic
Wheelchair Clinic
X-ray/Imaging
Adaptive Recreation
Back-to-School Fair
Holiday Toy Market
Halloween Celebration
Spring Carnival
Teen Group
Play Groups