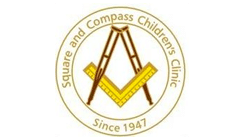 For nearly 70 years, Square & Compass has provided families in Southern Arizona a single facility to care for their children's most challenging of health needs. It gives me great pride when I consider that Square & Compass's original vision— caring for medically challenged children—has not changed in all those years, even as we've expanded our facility for the benefit of Tucson's children and pediatric community.
That vision began with 500 square feet and one clear need: to provide rehabilitation for children with polio. Over the years, whenever Square & Compass was able to expand to meet current needs, we did so. We're now able to provide great space for pediatric experts in more than 25 disciplines in one state-of-the-art facility, and we've lessened the burden on families struggling with unique healthcare problems.
Square & Compass owns and manages ongoing enhancements of the building that houses Children's Clinics. This allows Southern Arizona's pediatric doctors, nurses, therapists and other specialists to care for our children in a warm and inviting environment. We also assist with the cost of care for uninsured and underinsured children and teens.
We also make the facility available for the Los Angeles Shriners Hospital for Children's Outreach Clinic two to three times a year to serve children in Southern Arizona and Northern Mexico who have had surgery performed at the Shriner's Hospital in Los Angeles. We welcome the Los Angeles physicians to Tucson for follow up visits with their young patients who live in our region.
We're proud of our role in these honorable endeavors, and we're humbled daily by donor contributions that allow us to fulfill this critical community mission.
Sincerely,
Van Elrod
PRESIDENT,
BOARD OF DIRECTORS,
SQUARE & COMPASS
CHILDREN'S CLINIC