[vc_row bg_color=""][vc_column][vc_column_text]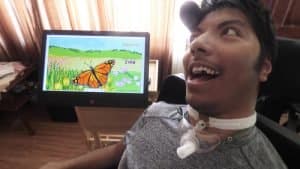 Ivan, who is now 24 years old, has been a patient at Children's Clinics for more than 17 years. Ivan began coming to the clinic for treatment of Cerebral Palsy, severe seizures, and Congenital Tracheomalacia. With the care and treatment he has received from a Cerebral Palsy team, neurologist, ENT, ophthalmologist, dentist, and primary care physician, Ivan has been able to lead a more comfortable, happy, and productive life.
The relationship Ivan has with his parents is awe inspiring. They are completely devoted to him and providing the care he needs. Sabino, Ivan's dad, said, "He is our source of energy to keep going. His will to live is a great inspiration to us." Ivan enjoys making music with Sabino. Ivan's mom, Antonia, helps him create beautiful works of digital art that are turned into heartfelt greeting cards. Though Ivan struggles with his health from time to time and is unable to venture out on public outings as much as he'd like, there is no shortage of social interaction with his family and friends. Ivan enjoys telephone and video calls from his grandparents and very close friends.
Sabino shared that Children's Clinics and Square & Compass have been a blessing to their family. Walking through the halls is very much like walking in their own home, but with a few more caring hands. They always receive smiles and prompt answers to their questions and concerns regarding Ivan's health. Children's Clinics and Square & Compass are not only with them when they are here, but have become an important part of their lives. They have had great experiences and have made life-long memories at the Clinic. Sabino commented, "From the front desk to the Square & Compass office, and in between, people have been so wonderful. Many of Ivan's experiences may have never occurred without the support of Children's Clinics and Square & Compass, and we know we are not the only ones blessed by their support. BIG THANKS!"
The partnership between Children's Clinics and Square & Compass has allowed Ivan and kids like him to receive complex medical care, and so much more, under one roof. With the help of contributions made by generous donors, we also lessen the burden on families, like Ivan's, that face these complicated issues every day.
To see music videos and artwork created by Ivan and his parents visit:
https://www.youtube.com/user/saby7
https://www.facebook.com/Antonia.Ivan
[/vc_column_text][/vc_column][/vc_row]